Thai Dating
There are many dating websites on the Internet. But if you are looking for Thai women, you have to visit special Thai Dating websites. Since the demand here has steadily increased in recent years, the range of products on offer has also continued to develop in this area. The currently most popular platforms in this segment include ThaiFriendly and ThaiCupid. The following comparison of the two portals shows how they differ from each other and where there may be room for improvement.
ThaiFriendly vs. ThaiCupid:
In this guide you will find an overview of the two best Thai Dating portals for Thailand. If you want to get to know a Thai woman through a Thailand single exchange, you are guaranteed to find the right one for your taste using the two portals.
ThaiFriendly
ThaiFriendly is a large Thai dating portal with over 2.3 million members that was founded in 2010 and whose specialty is that men can only get to know Thai women through it. It is not only currently the most popular but also the largest Thai dating website on the Internet with almost 2.3 million members. The portal can be accessed via a classic web browser on a PC or laptop as well as via the app, which can be downloaded free of charge from the Google Play Store and the Apple Store.
The ThaiFriendly website is designed very simply and only provides the most important functions, which in turn has the great advantage that you can find your way around very quickly. After you have logged in, you will find the area for your own profile in the upper right corner of the main menu and a search, mail and browse function directly to the left.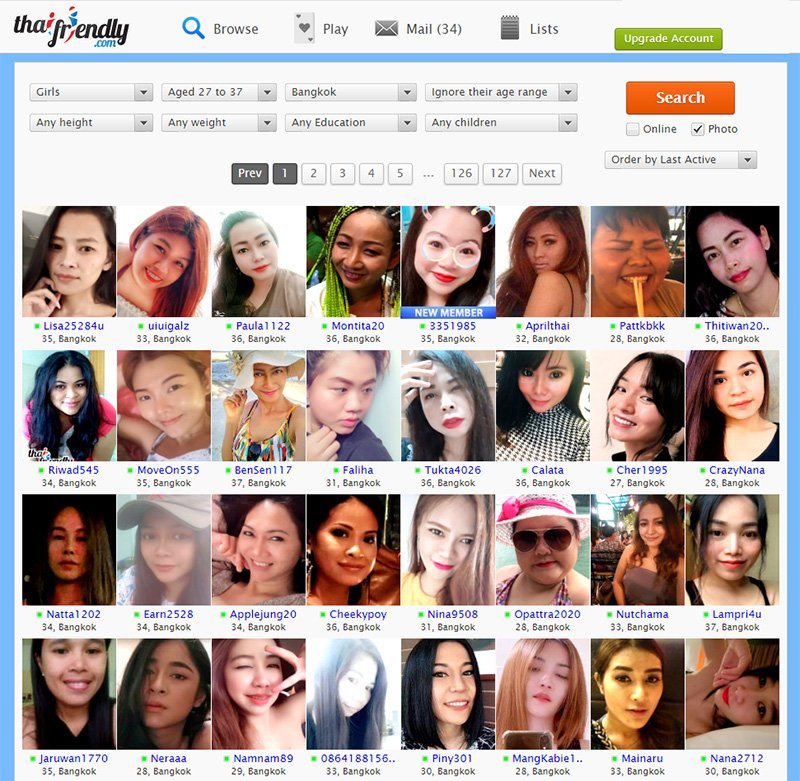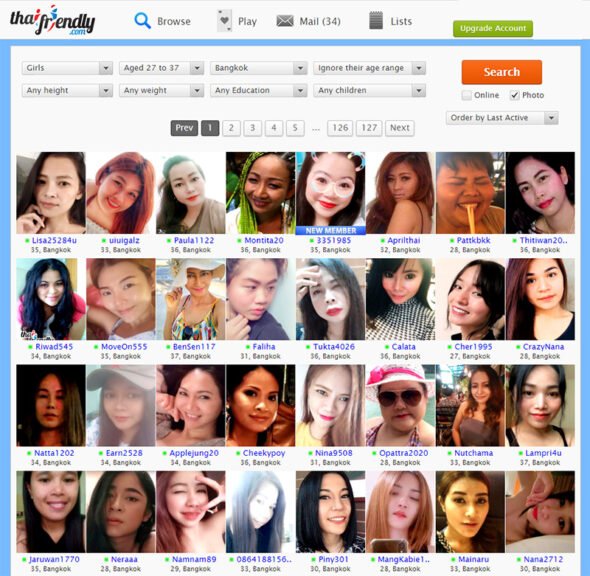 Browse function:
Members can use the browse function to search for other members using a variety of filters. These filter options include the desired location and area, age, height, education, weight and whether it should be a Woman or a Ladyboy. Depending on the selected membership, the selection of the filter functions varies somewhat, so that members with a standard account cannot access all filters. After the search has been carried out, all results are clearly displayed, including a profile picture and the most important key data.
Mail and Lists function:
If an interesting contact has been found, this can be contacted via the mail function. Some special feature is the list function, which can only be used to its full extent by premium customers. It allows you to create favorites and take notes. Also only included in the premium membership is the view of the contacts who have visited your own profile.
Profile functions:
The profile of the selected contact offers numerous ways of establishing contact. There is a kind of like button, which ThaiFriendly calls "Show Interest". If this button is pressed, this is displayed to the chosen ones. A private chat can opened via "Open Chat". It is also possible to leave a comment under the profile, which can be viewed by every member. Anyone who feels harassed can also use the "Block this User" function. Important: With particularly popular profiles, you can only send a message with a premium account. This function is free of charge for less good-looking / popular girls.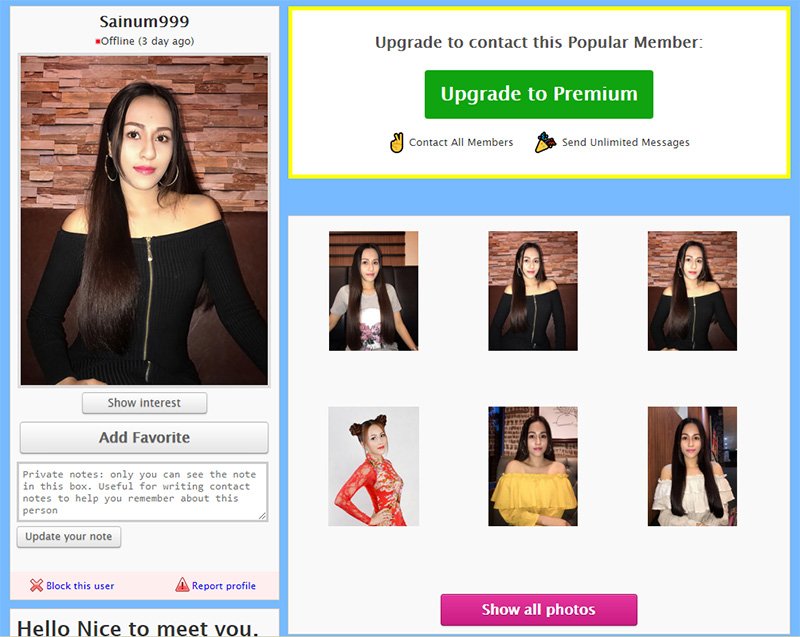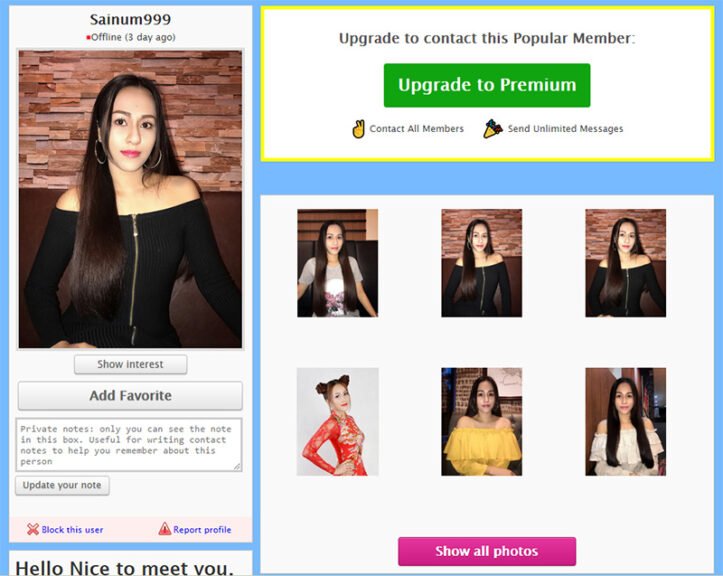 Premium Membership:
Those who take out a premium membership for Thai Dating can benefit from the following advantages:
unlimited sending of messages without a 10-minute block
writing to popular profiles is possible
extended search function
Profile can be hidden, even switch offline even though one is online
The profile is listed higher and seen by more members
Profile visitors are displayed and whether any messages have been read
see what member like you
How much does a premium Thai Dating membership cost?
There are various subscription models to choose from, which look as follows:
1 month: 24.95 USD (monthly invoice, can be canceled at any time)
3 months: 49.95 USD (invoice every 3 months, 3 months notice)
6 months: 69.95 USD (one-time invoice, not automatically renewed)
12 months: 119.95 USD (one-time invoice, not automatically renewed)
You can pay via PayPal and credit card.

ThaiCupid
This Thai Dating site has currently around more than 3 million members and is part of the Cupid Media family, which operates many other dating portals and has a total of 35 million members worldwide. Most members are between 21 and 40 years of age. On ThaiCupid the members are either looking for an adventure, a friendship or a solid relationship.
In direct comparison with ThaiFriendly, it is immediately noticeable that the ThaiCupid online Thai Dating platform is designed much more sophisticated and appealing. On the start page you can see the registration area on the right-hand side, which initially asks for all relevant data. Anyone who is already a member can log in immediately by clicking on the login button. Registration via Facebook is even easier, and this is also possible without any problems. Furthermore, all relevant information about the dating site can be found on the homepage, an area that explains exactly how everything works and an area with interesting success stories.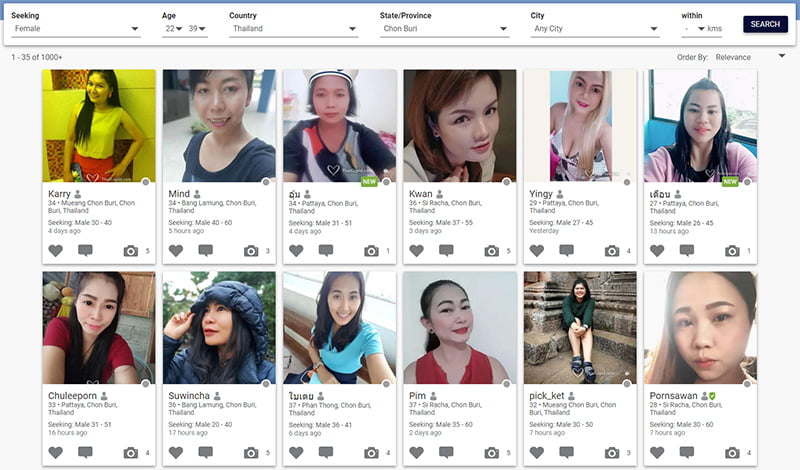 Search Function:
As on any good Thai dating platform, ThaiCupid also offers a practical search function. Using these search functions, members can be filtered by appearance, age, city, region, with and without a photo. In addition, users who are brand new to the platform can be searched explicitly. All search results can also be filtered so that only the members who are currently online are displayed.
There is also the possibility of narrowing down the search in particular by weight, type, height, smoker or non-smoker, children, occupation and much more.
Favorite Function:
The favorites function, which can also be found at ThaiFriendly, is very useful. With this function, individual members can be listed on a favorites list so that you always have an overview.
List Function:
Here you can see which members have expressed their interest. All in all, the main page of the members area is very clearly structured so that you can find your way around quickly. The main bar in the upper area shows how many members are currently online as well as the areas e-mail, search, lists, settings and my profile. In terms of functionality, there are almost no differences to the dating platform ThaiFriendly already presented.
Premium Membership:
Which premium packages does ThaiCupid offer? Basically, ThaiCupid distinguishes between three different packages.
Standard membership is free and just includes creating a free profile and viewing other members at this Thai Dating platform. If unrestricted contact is sought, i.e. sending messages, a fee-based membership is required. There is gold and platinum membership, which differ as follows:
Gold membership:
Communication with paying and free members
no advertising
Profile & Photos can be set to hidden or invisible
Instant messaging with text possible.
Platinum membership:
Communication with paying and free members
No advertising
Profile & Photos can be set to hidden or invisible
instant messaging with text and video
more extensive dating service
profile notes can be added
messages are translated into your language
How much does a gold and platinum Thai Dating membership cost?
Gold membership:
1 month: 34.99 USD per month
3 months 23.33 USD per month
12 months: 11.67 USD per month
Platinum Membership:
1 month: 39.99 USD per month
3 months: 26.66 USD per month
12 months: 13.33 USD per month
Payment can be made via credit card, bank transfer, PayPal and Paysafecard.

Conclusion:
ThaiFriendly vs. ThaiCupid
If you want to meet attractive and nice Thai women, you are in good hands on both platforms. However, ThaiFriendly is clearly our winner due to the free contact function. Even if you have to wait 10 minutes you can avoid this by giving your line ID directly in the first message. Which platform you ultimately choose for Thai Dating, of course, depends primarily on your own requirements.