Whose Thai girlfriend hasn't talked about Mookata yet? Do you already know the traditional Thai BBQ? Here's everything you need to know to make it right and how to easily make it yourself at home.
Mookata
Only a few tourists will know the typical Thai barbecue, as it is more or less only known to the locals. You rarely see tourists in the restaurant, even if only accompanied by locals. The Thai BBQ is so delicious and should definitely be tried once. Here you can find out everything you need to know, how to prepare it correctly and how you can easily do it yourself at home.
The Thai BBQ is a very simple form of cooking that is very popular with the Thais. There are some girls who could eat mookata 3 times a day. With the Mookata you don't get a ready-made dish, only the raw ingredients that you have to prepare yourself. The ingredients are just boiled and grilled.
All participants sit around the table and prepare the buffet together. We cook, talk and eat together. For that reason alone, it is recommended. Even if it may be strange for us tourists that everyone eats from the same pot, it is a very nice feeling and connects people even more.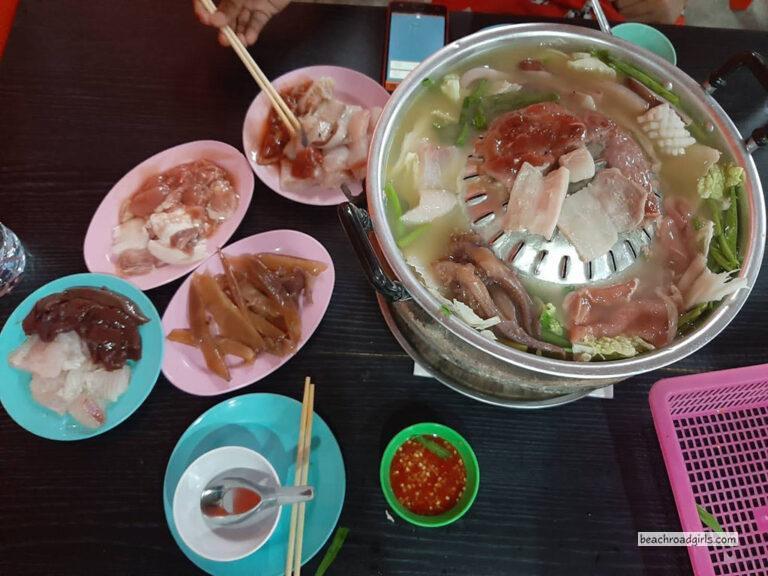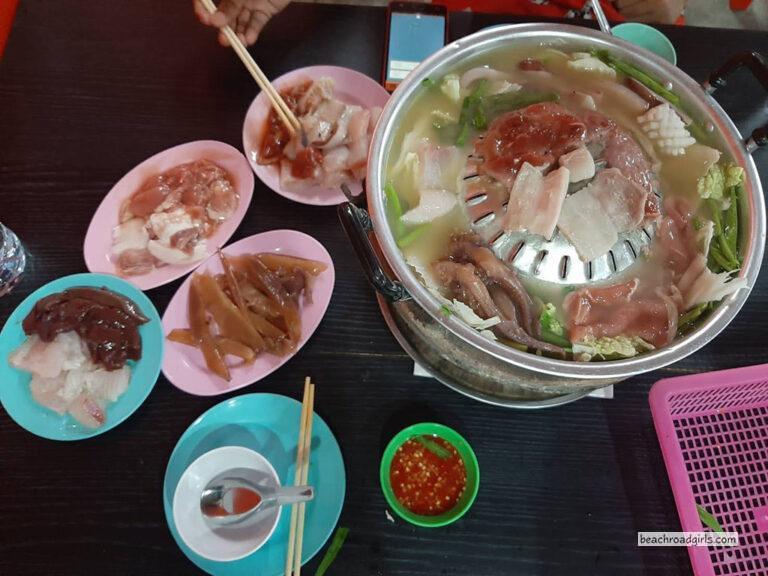 Preparation:
Even if the ingredients are only grilled, you can do a lot wrong here if you don't know how to do it right. I will briefly explain what you have to pay attention to with a Thai barbecue.
The first thing to do is to order. What you would like to have is entirely up to you. Normally you order a mixed platter with all kinds of delicacies on it (pork, beef, liver, prawns …). You can also add to the plate, there are no limits. Tip: order an additional raw egg and marinate the meat with the egg before placing it on the Thai grill. Tastes even better!
The staff in the restaurant set up the grill and also bring the pot with the embers. Then the bowl from the grill is filled with chicken broth. Due to the high heat, it starts to boil after a few seconds.
If you prepare muookata at home, it is best to do it outdoors so that the smoke can escape.
Now the supplied pork fat is placed on the top of the Mookata Thai grill. As soon as you notice that the fat is running over the grill, you have to grease the entire area very well. It's best to take the piece with a fork and rub it very well over the entire surface. IMPORTANT! If you don't do this, everything will burn immediately, there will be thick smoke and barbecuing is almost impossible. Should that happen to you anyway, you can order a new grill, it will be exchanged at no extra charge.
Now all other ingredients and spices that you get automatically go into the boiling chicken broth. If you cook it yourself at home, you can put in everything you like (salad, mint, Chinese cabbage, morning glory, glass noodles …).
The meat is placed on the grill and grilled normally. As soon as it is ready it is placed in a bowl and consumed with the broth and the cooked herbs. The whole process is so simple and easy, and yet it just tastes extremely delicious!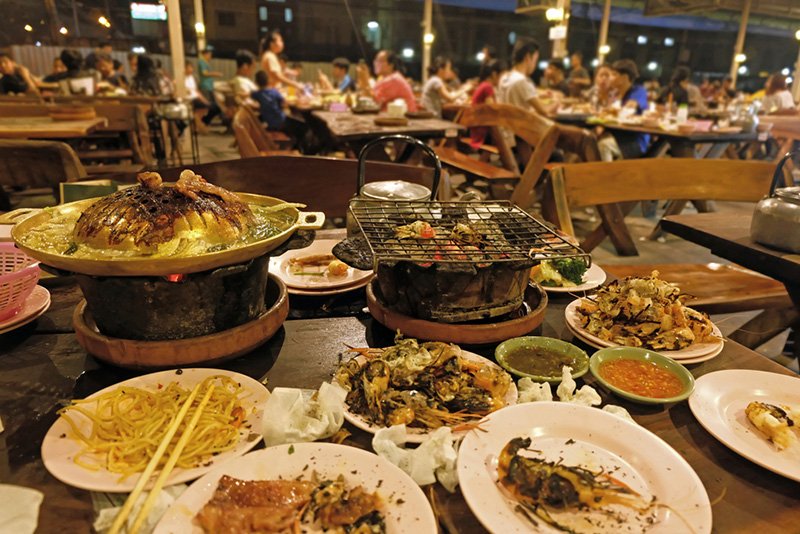 How much does Thai Barbeque cost:
The prices for dishes in Thailand are all very low and in no way comparable with those in the US or Europe. The Thai BBQ is also very cheap. The prices differ slightly from region to region, but in Pattaya you can expect a pricerange from 200-500 Baht (for 2 people). There are also different restaurants that offer different things. In some restaurants you can choose everything separately (30 baht per plate with e.g. meat, pork etc.) and then there are the so-called Thai BBQ Buffets, where "all you can eat" is offered. For this you pay about 300-600 baht per person, but you can eat until the bitter end.
You will surely collect a lot of plus points with your Thai girlfriend if you say for yourself, come on honey, let's go eat Mookata.

The most famous places to eat mokkata in Pattaya are:
Keang Mookata Buffet Pattaya, 3rd Rd.
AI MUKATA Buffet Pattaya, Soi Phettrakul
Ninja BBQ Buffet Restaurant Pattaya, 3Rd.
There are countless smaller restaurants in Pattaya that have Mookata on offer in addition to the normal dishes. Thai people can always eat mookata, so what are you waiting for. Grab your girlfriend and go to the Thai BBQ.
Thai BBQ at home in the US or Europe:
If you want to prepare the typical Thai barbecue at home in the US or Europe. The Thai grills are available online. All models are available on Amazon. If you have wanderlust you can bring a little bit of Thailand to your home. Even a cozy evening with friends and cooking Thai BBQ together is nothing in the way and you can make every heart of a Thailand fan beat faster.