There are many questions about Pattaya. Here are the most important answers to your questions.
Pattaya how to get there:
In my post Bangkok to Pattaya – 4 ways from the Airport you can find out, how to get from Bangkok Suvarnabhumi Airport directly to Pattaya. You can choose between Bus, Taxi and Chauffeur service.
How far is Pattaya from Bangkok?
The distance between Bangkok and Pattaya is 130km. There is a motorway, the driving time should be about 1 1/2 – 2 hours.
How mutch money in Pattaya?
Just calculate roughly with about 100 USD per day that you will need in Pattaya. Sometimes it is only 60 or 70 USD and on some days with 2 shorttimes it is 120 USD. It all depends on your needs.
A little trick: I usually make my date clear through ThaiFriendly & Line. Some girls come straight into the hotel room and some other girls I meet in front of the hotel on the street. This way you can save a lot of money with lady drinks and barfines.
The prices for freelancer girls in Pattaya are 1000 baht for short and 2000 baht for long time.
How long to stay in Pattaya? / How many days Pattaya?
How long you should stay in Pattaya is a tough one and it is entirely up to you. Just book your hotel for 3 days and you will see if you like it or not. You can easily book hotels through the Agoda App or website. If you don't like Pattaya after 3 days just go elsewhere in Thailand. Domestic flights and getting around are extremely inexpensive. And if you like it better than expected in Pattaya, it is no problem to book a few additional nights at short notice due to the large number of hotels.
How to get around in Pattaya?
Getting around in Pattaya is not difficult and very cheap. There are baht buses (Songthaew) every few minutes on the Beachroad, Second Road and Soi Buakhao that you can stop with a wave. The journey costs 10 or 20 baht depending on the distance. Furthermore, there are mototaxi drivers almost everywhere who will bring you to your destination. The cost is 30-200 baht, depending on the distance. Then there are also grab taxis. Here you install the Grab App on your smartphone and can conveniently book your trip online.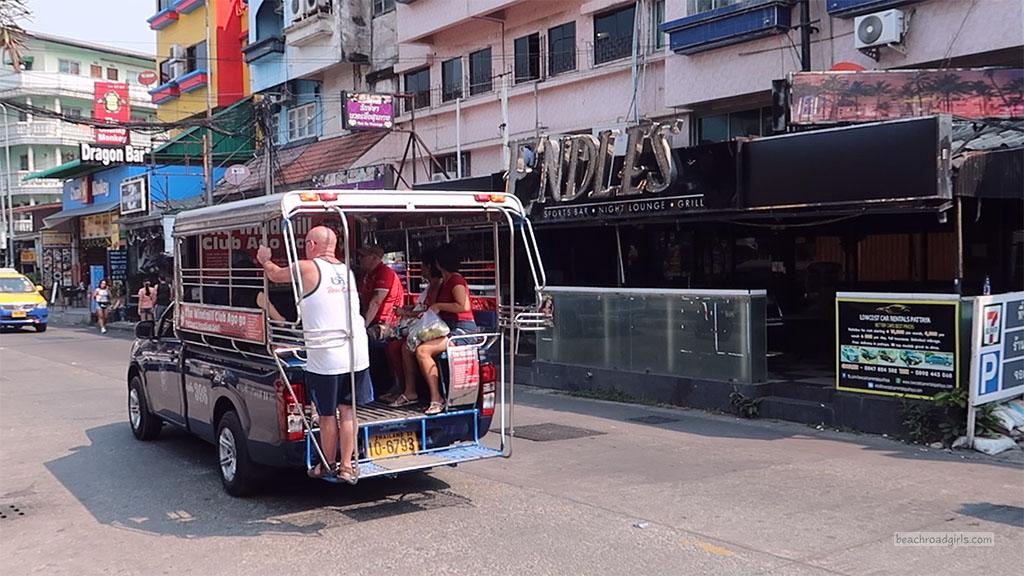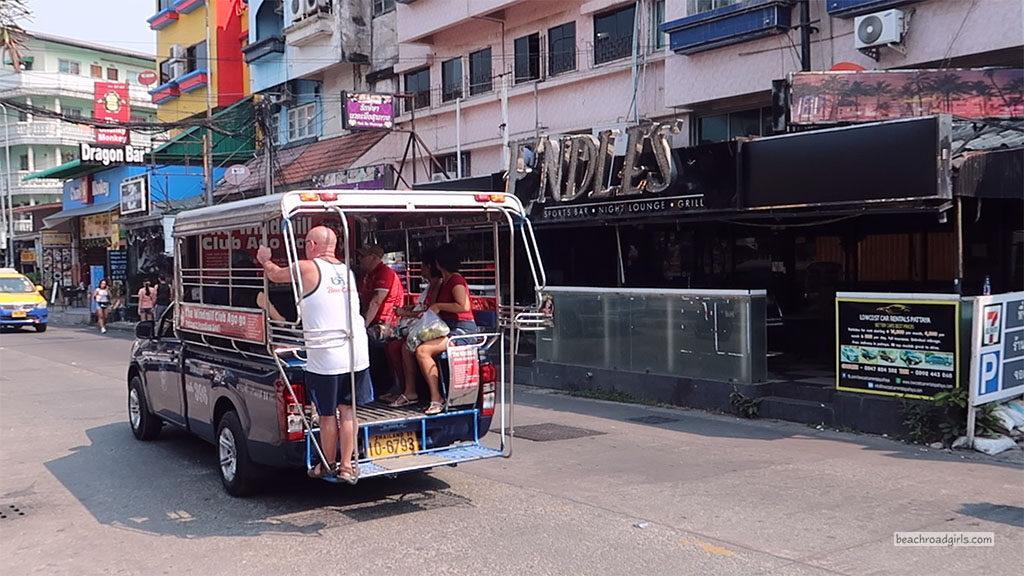 Note! Never ask the baht bus driver if he is going to a specific location. Stop the baht bus by waving and get on directly at the back. Once you get to or near your destination, press the bell button and then go to the passenger window and pay 10 baht. Otherwise, the driver may charge you 10 or 20 times. To find your way around, it is helpful if you have Google Maps on your smartphone.
Here are a few things to do in Pattaya during the day:
Going to Pattaya with Family?
Pattaya is certainly also suitable for families. Jomtien Beach is a lovely area for family vacations. I also see some people walking through the walking street with strollers at night to get to their hotel. But to be honest, Pattaya is the Disneyland for men traveling alone and for a family vacation there are certainly nicer places in Thailand (Phuket, Krabi, Kho Phi Phi, Kho Lipe, etc.)
Why visit Pattaya?
Let's not fool ourselves. We don't go to Pattaya for the good beaches and the good food. We're going to Pattaya for some fun. Pattaya offers us sun, cold beer, Young & pretty Girls and it's cheap too. In which country on earth are you still called handsome and sexy at the age of 80?
Pattaya what to do at night?
The answer is not difficult. If you just want to sleep in Pattaya at night, fine too. However, Pattaya offers a nightlife that is legendary and does not exist anywhere else in the world. In my post Nightlife in Pattaya – The Best places to be I show you a few points in Pattaya what you can do at night.
Pattaya when to visit?
You can visit Pattaya all year round. Even if it rains briefly during the rainy season (May-October), it always remains warm and the rain stops after a short time.
When Pattaya will open?
Pattaya is open! But very far from its old form. Many girls are back to their families. A few are trying to make money somehow. Currently, only locals and tourists who have stayed in Thailand are in Pattaya. Very few hotels and bars are open. Unfortunately, more and more often you see the signs for sale or rent of closed bars and restaurants. I am afraid that when normal tourism starts again, Pattaya will have changed. But when that will be, is still in the stars. Probably if a corona vaccine was found.
Who sings the Pattaya song?
Pattaya, Pattaya… Who doesn't know the Pattaya song? Very few know who sings it. It is Lou Deprijck.
Pattaya hotels without joiner fee?
In my post Guest Friendly & Girl Friendly Pattaya Hotels I show you which hotels do not charge a Joiner Fee.
Do you have any other questions about Pattaya? Write it in the comments.