Have you ever thought about using a VPN in Thailand and while traveling? Password theft, series & films that are blocked on Netflix or HBO in Thailand, blocked access just because you have logged into your provider with a Thai IP address? It's time to think about a VPN in Thailand!
But what is a VPN and what is it all for? To use a VPN in Thailand you first have to install a small application on your notebook or going to your settings. For smartphones, you can find the settings in the Android operating system. Many travelers only use a VPN Connection to circumvent censorship, but there are other good reasons as well.
Imagine trying to launch Facebook on your computer and all that pops up on the screen is an error message. With full confidence you want to search for a solution to your problem via Google – and you have to find out that Google does not work either. Well, maybe you can ask your friend who does something with IT … But no, even Gmail won't start despite a working internet connection.
The example is not an invention, but a sad reality in China and some other countrys, where all these services are blocked. You are not always a victim of politically motivated censorship if you cannot access the internet content you need right now. In this post I want to describe situations in which a VPN in Thailand is incredibly useful when traveling – even if you are not doing anything illegal.
VPN in Thailand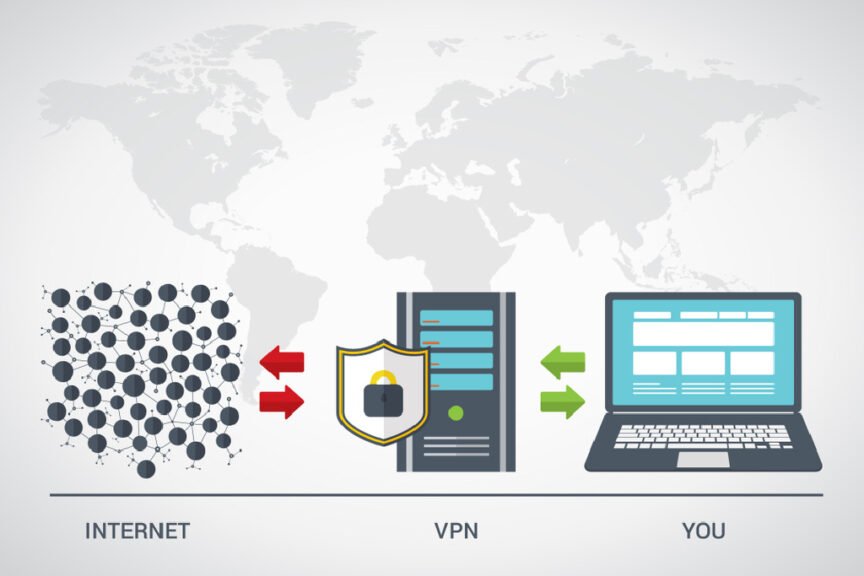 VPN stands for Virtual Private Network. The best way to imagine how it works is like a tunnel: All data that you receive or send is encrypted and sent to the data highway and only decrypted when you exit. This makes your data largely bug-proof.
Almost more important, however, is that most VPN providers around the world have their servers spread out. So when you set up a VPN from Thailand to the US or UK, you can access everything that other people in the US or UK can see. So you can connect trought a VPN in Thailand with a US IP to access content that you could only see in the US, such as Netflix.
Tap-proof WiFi hotspots
In Thailand or when traveling, you can use free wifi Hotspots in almost every hotel, bar, restaurant. The problem: With poorly or not at all encrypted hotspots, it is possible to intercept your data traffic including passwords. The spy just needs to be in the same WiFi network as you. There are various software around that anyone can download to record the network traffic and filter out your passwords and access data that you send over the open wifi.
I still find the idea that anyone with minimal technical knowledge can overhear all of my communication is a bit scary. With a VPN you can ensure that all data is transmitted in encrypted form. Listening to you then takes a lot more effort than normal criminals can do.
Media restrictions
Have you ever tried to watch US or European TV shows in Thailand? The problem here isn't censorship, it's the media company's website itself, which won't play the film if you want to access it with a Thai IP address. This has to do with the licenses under which the films, series or broadcasts are purchased.
With a good VPN provider, you can choose from hundreds of servers around the world and dial into the internet in a country for which the media content is licensed. Only the IP address counts here whether you get access to the content
Websites, Online Banking
I've already seen it myself when I signed up from Thailand on my bank's website and was banned. Some banks and website operators have a security mechanism that denies access to the website from abroad. Here only using a VPN in Thailand can help to rule out such problems.
Flightsearch & Booking
Unfortunately, the pricing policy of many airlines is opaque. The point is that flights cost differently depending on where you book them from. An example was given in Time Magazine some time ago, according to which a flight from Cartagena to Bogota costs 116 dollars with the cheapest travel agency in the USA, but only 62 dollars if it is booked with a Colombian travel agent.
Aside from the difficulty of finding these cheap fares in the first place, you will most likely have problems getting these tickets in the first place. Because most airlines recognize your location by IP address and don't even offer you the correspondingly low prices. Sometimes it is enough to change the country settings in advance. But if that doesn't work, only a VPN that can fake a foreign IP can help.
My experience using a VPN in Thailand
There are a number of free providers to use a VPN in Thailand. Unfortunately, these providers are often slow or jam-packed with advertisements. Of the three free VPN apps that I downloaded to my smartphone before my last trip to Thailand, not a single one worked in Thailand.
I myself currently use ExpressVPN because, according to my own information, it does not create any log files and can bypass the country block on Netflix and similar services. I am also satisfied with the large selection of servers in numerous countries and their high speed.
I recently came across NordVPN. The provider claims to operate the most modern VPN. Whether that's true, then I don't judge. In any case, the prices are pretty good at $ for a month. There's also an unbeatable three-year deal for.
If you value privacy very much, I can only recommend Perfect Privacy. The service isn't cheap at $ 12.99 a month. The company is based in Switzerland and, like Swiss banking secrecy, these VPN connections are also very secure. In addition, Switzerland is not one of the 5 eyes countries.
A little tip: Most VPN providers will refund the money if you say within a month that you are not satisfied with the service, or they officially offer a test month right away. My Opinion: If you really use the VPN in Thailand often, you should pay for it too.
Conclusion
As long as you stay at home in the United States or Europe and don't use public WiFi hotspots, the benefits of a VPN are relatively small. As soon as you travel abroad, however, you will be confronted with the issue of security and internet censorship relatively quickly. If you want to work on the go or need a working internet for other reasons, a VPN in Thailand is a must.