Folks, I did it and be now in my first days of Quarantine at the ASQ Hotel. Is it a hard time? No! Preparation is half the life and therefore the quarantine period is bearable.
Many have asked me which documents you need for Thailand Entry 2021 (as of May 2021), where you can get them and what it all costs. In this post you will find out everything you need to know about your trip to Thailand 2021 in times of Corona.
Thailand Entry 2021
I have to admit, I fought for a long time whether it made sense to fly back to Thailand right now. Lots of additional costs, uncertainty about all the regulations and then the 15/16 day quarantine in the ASQ hotel.
But! It's worth it. Do you like Thailand then you will get to the point where you say now or never. Sure Corona is still there but why should this virus keep you from your trip?
The internet is full of misinformation. Everyone says something different and in the end you know exactly as much as before.
Documents for Thailand entry 2021:
What documents are required to enter Thailand in 2021?
COE (Certificate of Entry)
Passport (Visa or Visa exempt)
Health insurance for Thailand
ASQ Hotel booking
negative RT-PCR corona test (Result! max. 72h before Departure)
T8 questionnaire
TM6
Boarding Pass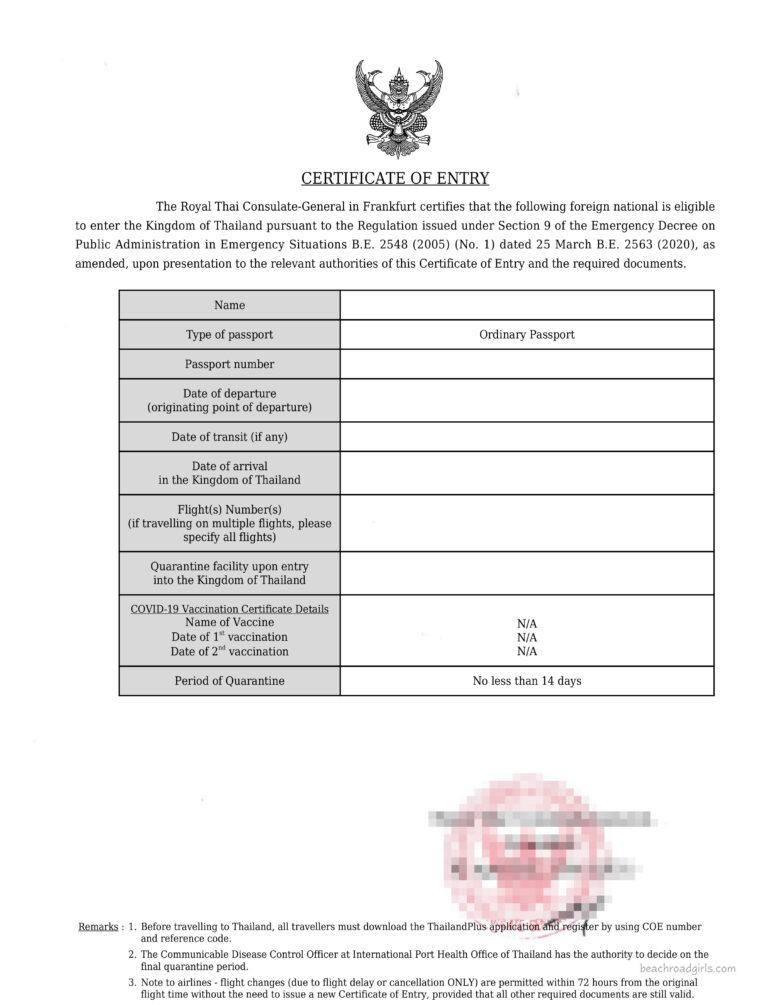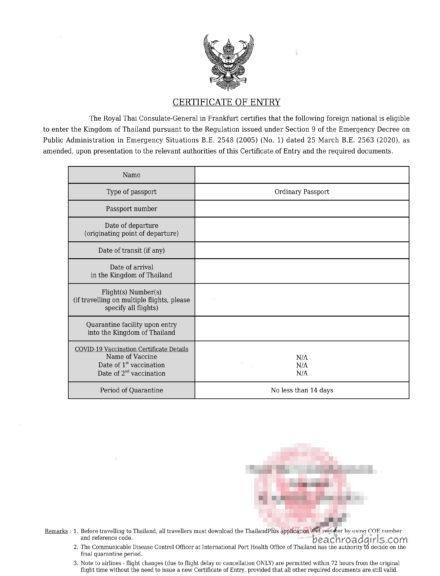 Make at least 2 copies of every document you have. It may be that a counter keeps a document and you are asked to show this document at the next counter. You should also keep your boarding pass. You will need it again at Bangkok Airport.
Visa or Visa exemption:
Visa exemption: You can come to Thailand without a visa if, you have a passport from the USA, UK, Germany, Italy, Australia, Russia and some other countrys. At the airport you will get a stamp with which you can stay in Thailand for 45 days. These 45 days can be extended once for a further 30 days at Thai Immigration (1900 THB).
TR-Visa: It's easy to get. And allows you to stay in Thailand for 60 days. Here too, a problem-free extension of another 30 days is possible with Thai Immigration, which costs you 1900 THB.
STV-Visa: This allows you to stay in Thailand for 90 days, but I don't recommend it. There are just too many requirements to be met. My recommendation for Thailand Entry 2021 is clearly the TR Visa!
Health insurance for Thailand:
A very important point is the health insurance for Thailand. Without the insurance you cannot apply for a Certificate of Entry and at the airport you will be denied departure or entry to Thailand.
If you think your cheap USD 10 travel health insurance pays everything in times of Corona, then you are saving at the wrong end and you could be one of the people who have to pay 130,000 THB and more out of their own pocket for the hospital in Bangkok or Pattaya.
The health insurance for Thailand must have a minimum coverage of USD 100,000 and include treatment for Covid19.
My recommendation here is to choose Luma, AXA or Allianz Thailand health insurance. These meet all the requirements to receive your visa and the COE. Direct billing with the hospital in Thailand is also possible.
COE – Certificate of Entry (1. Step):
After you have completed the first two points for Thailand Entry 2021, it is now time to apply for the COE. Here you have to go through 2 steps! In the first step you have to provide your personal data and upload copies of your passport, visa and health insurance.
If your data has been successfully transmitted, you will receive a number. Make a note of this number because you will need it later to complete the 2nd step of the COE.
As soon as your COE has been pre-approved, you have exactly 15 days to book your ASQ hotel and the flight to Thailand.
Flight to Thailand:
If you think that flights to Thailand are expensive, then you are wrong. Many Airlines have very good deals in the moment. My plane ticket was just USD 400 (FRA-SIN-BKK).
There is a lot of space in the planes at the moment and social distancing shouldn't be a big problem here. On my flight to Singapore there were only 10 people on the plane, which was actually built for more than 300 passengers. There were only three of us on the flight from Singapore to Bangkok.
You can find cheap flights to Thailand on Kiwi
ASQ-Hotel:
An important point is the ASQ Hotel. How big should your room be? Does it have a balcony? There are offers from 30,000 THB to over 100,000 THB for a 15/16 days quarantine hotel. I admit the choice is not easy.
For me personally it was important to have a room with a balcony. If I'm trapped in a room for 15 days, I want to get some fresh air. However, everyone here has their own preferences. Do not underestimate the need to spend 15/16 days in a room with only a window and not be allowed to go out into the fresh air.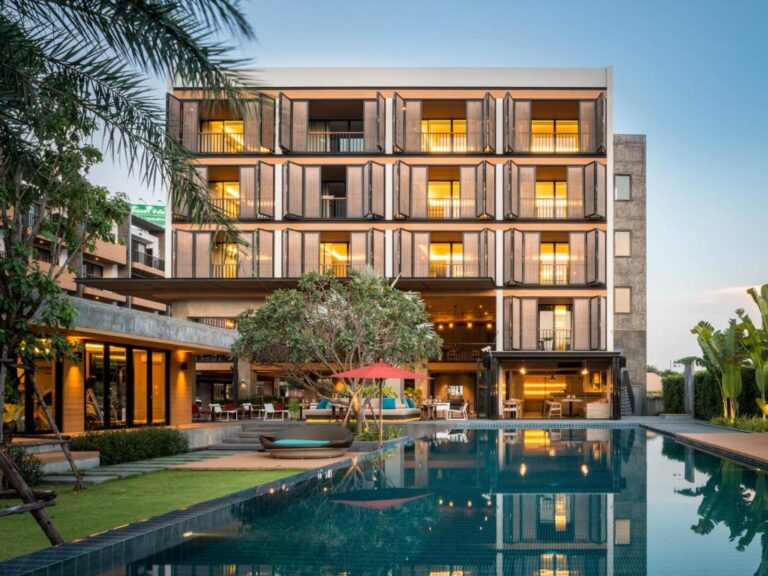 For me personally it was very important to have a large balcony with nature in front of the window.
After you have booked your ASQ hotel you will receive a confirmation letter. You will need this confirmation in the 2nd step of the (COE) Certificate of Entry.
If your flight lands in Bangkok between 00:01am and 6:00pm, this day counts as day 1 of your ASQ Hotel quarantine.
If your flight lands in Bangkok between 6:01pm and 00:00, this day counts as day 0 of your ASQ hotel quarantine.
A word of warning. Alcohol in the ASQ Hotel is prohibited. Some bring alcohol in their suitcase from home. Duty-free shops are mostly closed. When I entered the country, my luggage was x-rayed. Since the whole thing took less than 1 minute, I think that only bottles were searched.
I don't want to tell you what to do. You have to know that yourself, but remember that a drunk ASQ hotel guests don't make a good impression and then the regulations will certainly be tightened again.
COE – Certificate of Entry (2. Step):
As soon as you have booked your flight and ASQ Hotel within the 15 days described above, it is time to complete the process of receiving the COE.
For this you need the previously noted number from the 1st step COE and your last name in order to then upload the flight ticket (flight confirmation) and the ASQ hotel confirmation. You must also provide information on the flight number, flight date and transit.
At the end you have to upload your health insurance for Thailand again if it is not already stored on the site.
You should then receive the confirmed COE within 2-3 days. For me, the issue took 8 hours from uploading the documents to approval.
You have to print out the COE and need it when you check-in at the airport and when you arrive in Bangkok. In Singapore only the temperature and the boarding pass were checked.
RT-PCR Corona Test
In my opinion, the RT-PCR Corona test is almost the most difficult part of the whole process. I made a lot of phone calls here and had to ask whether it really is an RT-PCR test and this will then be written on the results form.
Often a so-called RT-PCR test is sold to you, but the results document only says PCR 24 hours test. This test is not accepted! Find out here in advance where you can do this test.
In the end, my test was free even though the laboratory actually wanted USD 158 from me. However, this is a local regulation that the laboratory itself didn't tell me about.
During your quarantine you have to do 3 more corona tests. These are on days 2, 6 and 12 of your stay at the ASQ Hotel.
The test can be a maximum of 72 hours old. The time at which the result was communicated counts here. However, you have to find out about your transit country which rules apply to the Corona test there.
Cost breakdown Thailand Entry 2021:
Photos for TR Visa: USD 20
TR Visa: USD 43
3 months health insurance: USD 240
Flight: USD 400
ASQ Hotel: USD 1450
Total: USD 2153
I admit it is not cheap to travel to Thailand right now. But it's worth it! If you like Thailand, you will feel very happy when you leave the Airport in Bangkok at the latest.
This article gives the current status of the entry to Thailand from May 2021. Things are changing rapidly in Thailand, most recently the return from 7/10 day quarantine to the old 15 day rule.
If you have any questions about Thailand Entry 2021, just write a comment.