Entry into Thailand – Good thing takes time. Thailand has long discussed how and when the borders will be opened to international tourism. Meanwhile a result has been reached. If you want to know if you meet the requirements to enter the Kingdom, read this article.
Just as it was before the corona pandemic, booking flights and flying is no longer the case. To be able to enter Thailand, you first need a lot of papers, money and travel health insurance that includes Covid 19 and offers a minimum coverage of 100,000 USD. However, it is not that easy to find an insurance policy that also protects against Covid 19. Our existing travel health insurances rule out most pandemics and are initially useless.
I checked out SquareMouth to see which travel health insurance policies are eligible and what they cost. For the shortest minimum stay of 30 days in Thailand, travel health insurance costs between 45 USD and 136 USD. If you are looking for insurance for a possible full 90 days stay with the new STV in Thailand you have to calculate between 69,88 USD and 540 USD. I know everything was cheaper before Corona, but it is currently not possible to enter and stay in Thailand without travel health insurance.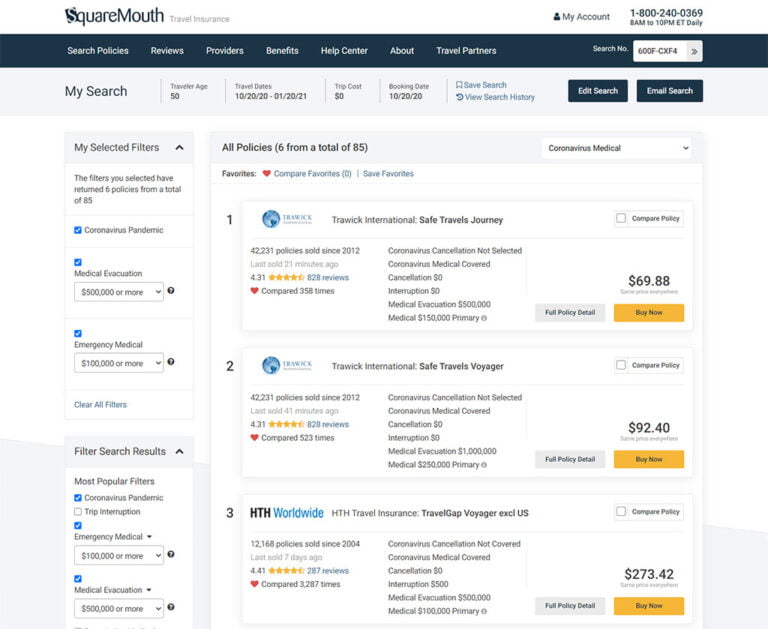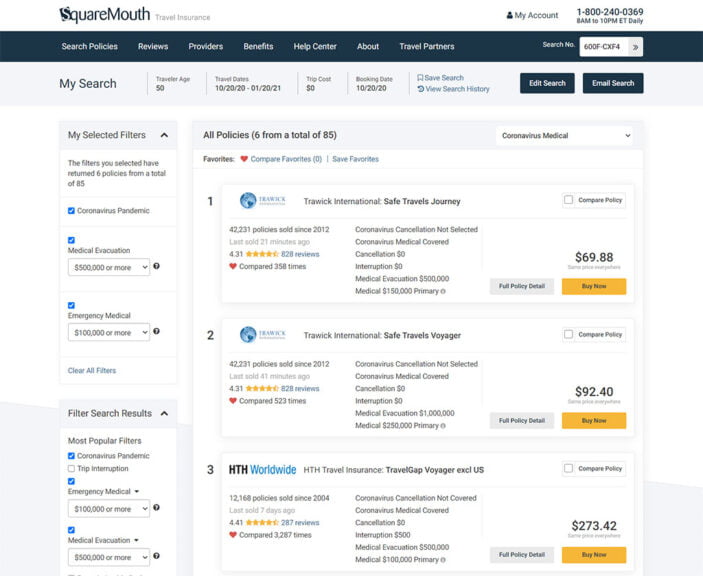 If you are checking the travel health insurance at SquareMouth then make sure to tick the Coronavirus Pandemic checkbox so that the correct insurance is displayed to you.
The new Covid 19 long stay Thailand Special Tourist Visa (STV):
The new Special Tourist Visa (STV) Scheme for Thailand comes into effect on September 30, 2020 and is valid for 1 year until September 30, 2021. This new Visa for Thailand is approved for people who want to stay in Thailand for at least 30 days and come from countries with a low Covid 19 infection rate.
If you are eligible for the new Thai Visa, here are the necessary application steps:
The foreign applicant for the new STV must sent a eMail to the Thailand Longstay Company ([email protected]) and submit his intention to apply for the Special Tourist Visa (STV). In this eMail, you must provide the following information of all applicants who want apply this new Visa:
Photo of the passport that the applicant will use for entry into Thailand
Current Residence (City & Country)
Nearest Thai Embassy/Consulate to the Applicant
The Thai Longstay Company will send the photo of the passport to the Thai Immigration Bureau to check the applicant's criminal record.
After this step you will receiving the approval from the Thai Immigration Bureau. Than you have to pay the application fee (10,000 THB excluding 7% VAT) per applicantand. The Thai Longstay Company will send the applicant the STV Visa application form and the company will correspond with the applicant regarding:
the 15 days ASQ/ALSQ quarantine accommodation options
accommodation options and requirements after the 15 days quarantine (minimum stay of 15 days) [Total minimum stay of 30 days including the 15 day quarantine]
Options for chartered flights
Medical and Travel Insurance options with a minimum 100,000 USD coverage for Covid 19 medical treatment and a minimum coverage of 400,000 THB for other medical and accident expenses. The insurance must cover for at least 90 days.
Once all payments have been made for the above items, the applicant must send all of the documents to [email protected]
The company will submit on behalf of the applicant, the STV Visa application from and all required documents to the Department of Consular Affairs, Thai Ministry of Foreign Affairs to apply for the CoE (Certificate of Entry) and the STV Visa.
Once the Department of Consular Affairs, Thai Ministry of Foreign Affairs has made the approval, the company will inform the applicant to pick up his/her CoE and STV Visa at the designated Thai embassy/consulate. When picking up the CoE and STV Visa, the applicant must also have a Fit to Fly Certificate & Medical Certificate for General Passengers https://ddc.moph.go.th/viralpneumonia/file/g_form/general02.pdf https://ddc.moph.go.th/viralpneumonia/file/guidelines/G23.pdf
The Fit to Fly Medical Certificate must states that the applicant does not have covid-19 and these certificates must be issued at least 72 hours before the flight departure.
Once arrived in Thailand, every STV Visa holder must follow the public health and safety measure set by the Thai Ministry of Public Health. If the STV visa holder has been tested positive for covid-19 at the airport, the STV visa holder will immediately be sent to the approved hospital. If the STV visa holder has been tested negative for covid-19 at the airport, the STV visa holder will pass through immigration.
STV visa holder will then go under the 15 day quarantine at his/her paid ASQ/ALSQ accommodation. If the STV visa holder is tested negative for covid-19 after the 15 day quarantine, the STV visa holder will be allowed to leave and go stay at his or her chosen accommodation
The tourists who are eligible for the new visa must meet all Covid 19 control mechanisms and undergo a 14-day alternative state quarantine.
Costs:
Let's add up the costs that this new STV for Thailand will cost us.
STV Application fee: 320 USD
Visa fee: 64 USD
Travel health insurance for 90 days: 70 USD
Alternative state quarantine 15 days: 2200 USD
Flight: 1000 USD
Total costs for entering Thailand: 3654 USD
These prices are only approximate. Depending on the ASQ hotel and the flights offered, the prices can also be open at the top.
The mandatory Covid 19 test before the flight and the Fit to Flight certificate are not included in these prices and should cost around 200 USD again. So we are at 3854 USD for entry into the Kingdom.
Personally, I think very few people want to go through this process. For 3854 USD I was able to live in Thailand for 2 months before Corona and now I am supposed to pay the same price that I am allowed to enter Thailand. It is not known what efforts will be added if someone actually tests positive for Corona.
So Thailand will remain closed for most of us for now. If you only have 14 days of vacation, you cannot spend 15 days in the ASQ Hotel. We have no choice but to wait and see which countries (Vietnam, Philippines, Laos, Cambodia) will allow entry next and under which conditions.
Traveling in times of Corona is associated with a lot of effort and money. Let's hope that this pandemic is over soon and that we can all party together again in Thailand.