Thai SIM card
It makes sense for every tourist who visits Thailand to get a Thai SIM card for his smartphone to avoid the expensive roaming tariffs. Of course you can buy the best Thai SIM card for travelers in 2022 directly at the airport in Bangkok, but you can read in my post whether this makes sense.
After a long flight, waiting for immigration and customs control, you have finally arrived in Thailand. What you still need now is a Thai Sim card. But mostly there are long queues at the sales counters in the airport with people who have the same idea as you. Actually, you only have 2 options to avoid the waiting time.
Order your Thai SIM card directly from home
Buy your Thai SIM card on the go or at your destination
But before we even start thinking about buying a Thai SIM card, we have to find out which operator is suitable for us. There are currently 3 different providers (dtac, AIS, True Move H) in Thailand. So that we can choose the best Thai SIM card for travelers in 2021 we should take a look at the network coverage in Thailand.
Network coverage dtac: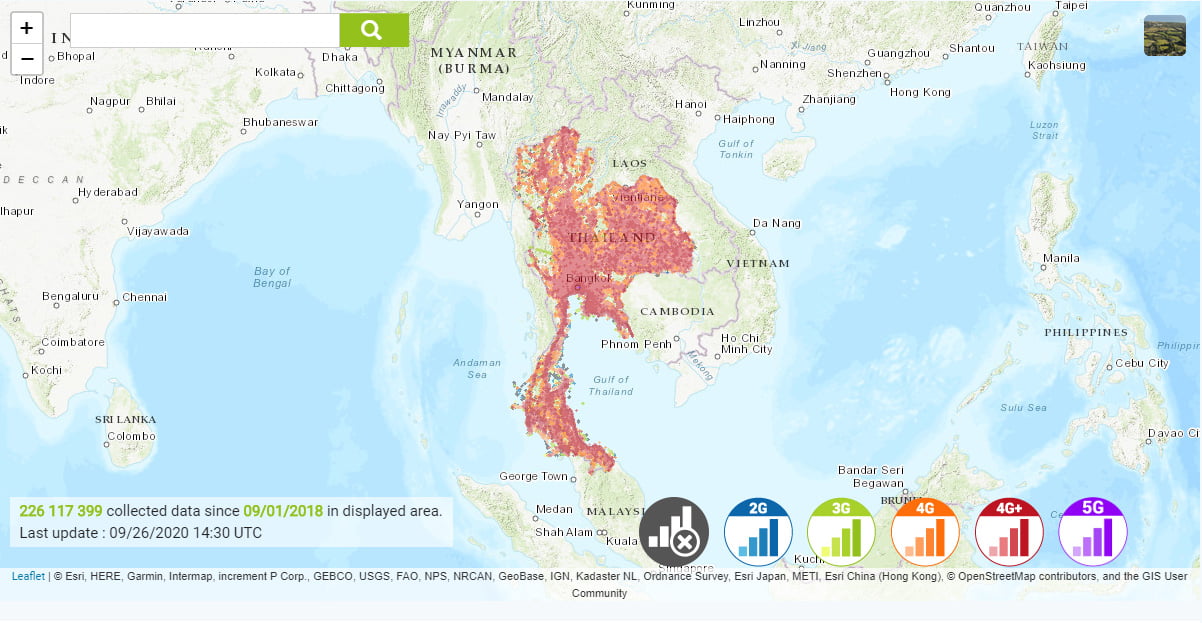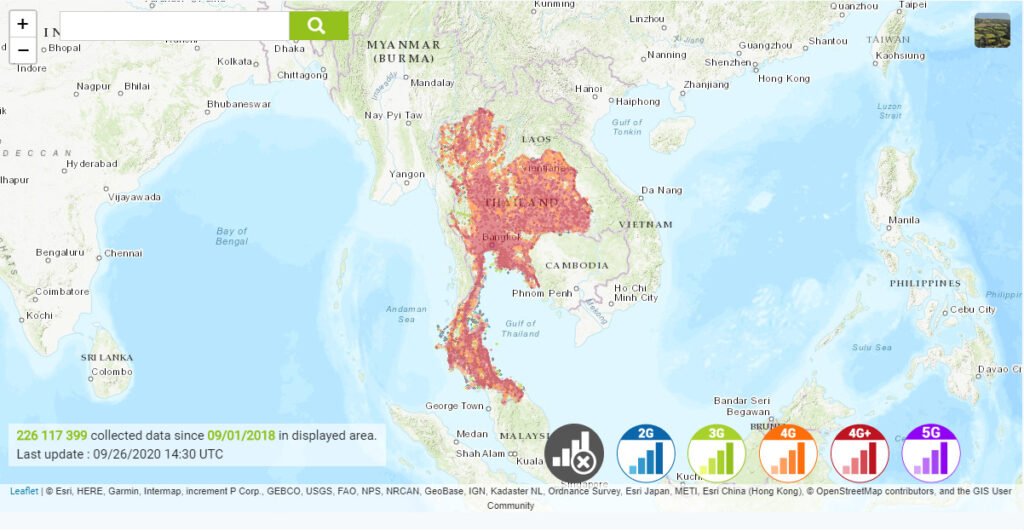 Network coverage AIS: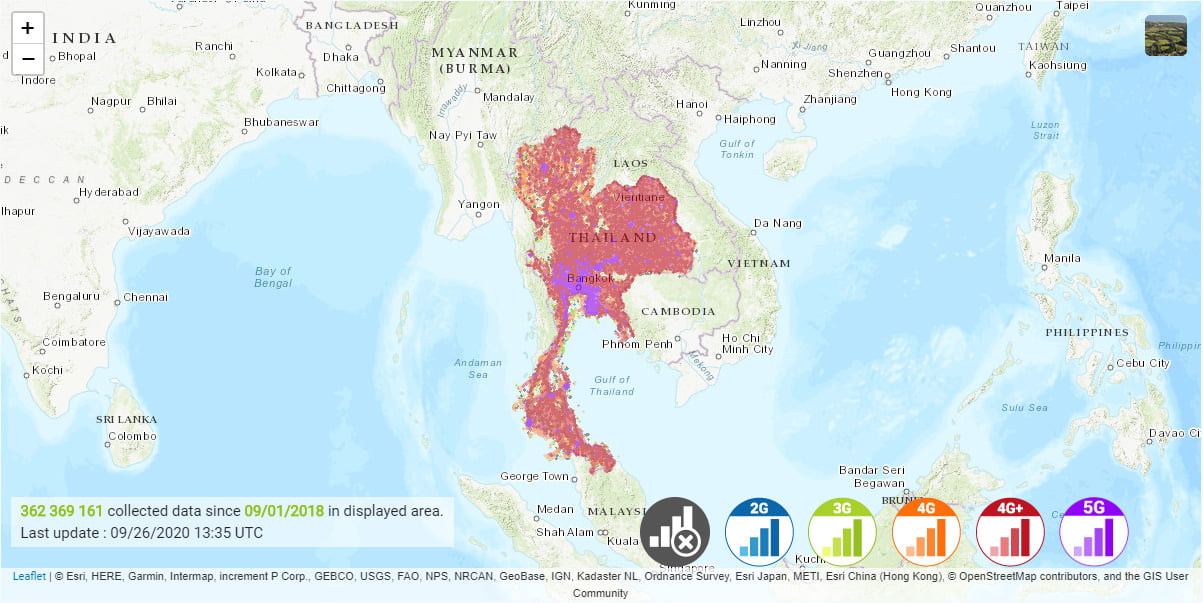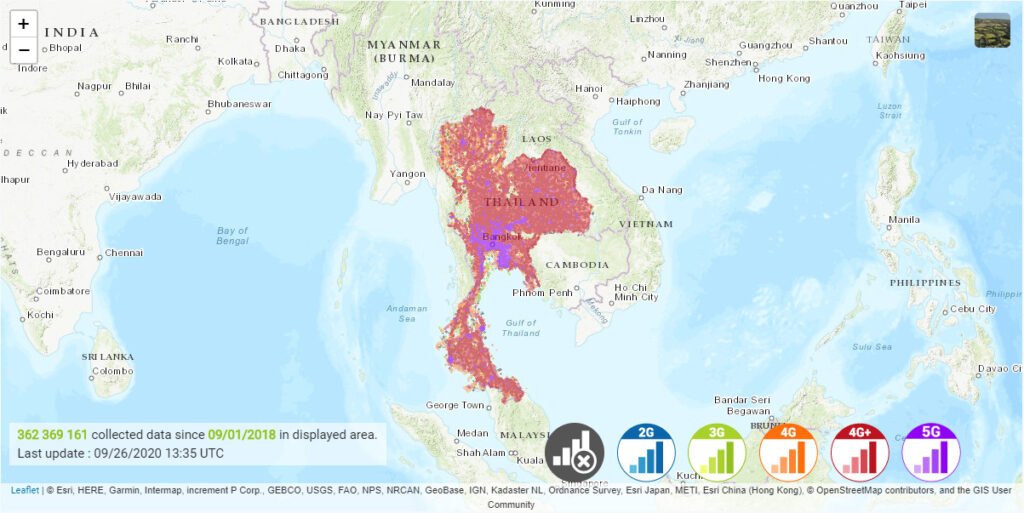 Network coverage True Move H: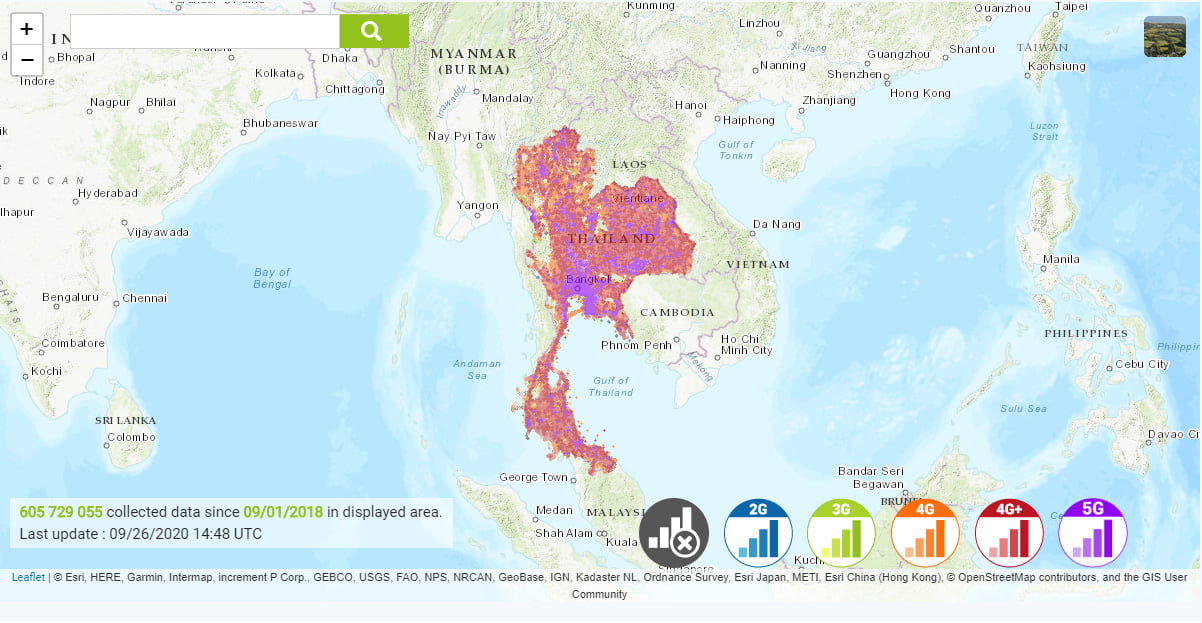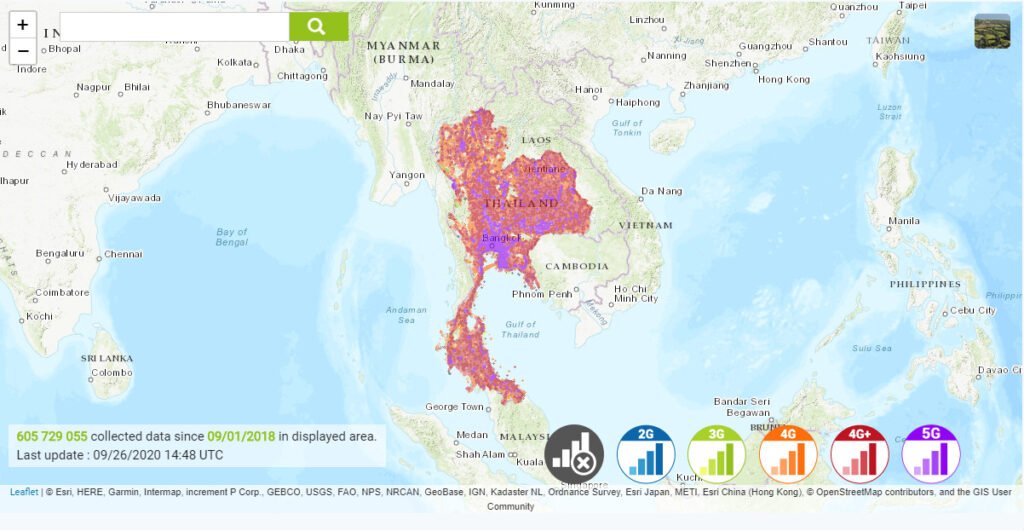 The best network coverage in Thailand currently has AIS & True Move H. But it also depends on whether you are a frequent surfer or only use your smartphone for important calls. In order to be able to choose the best Thai SIM card, let's take a look at the packages of the individual providers:
dtac Thai SIM Card: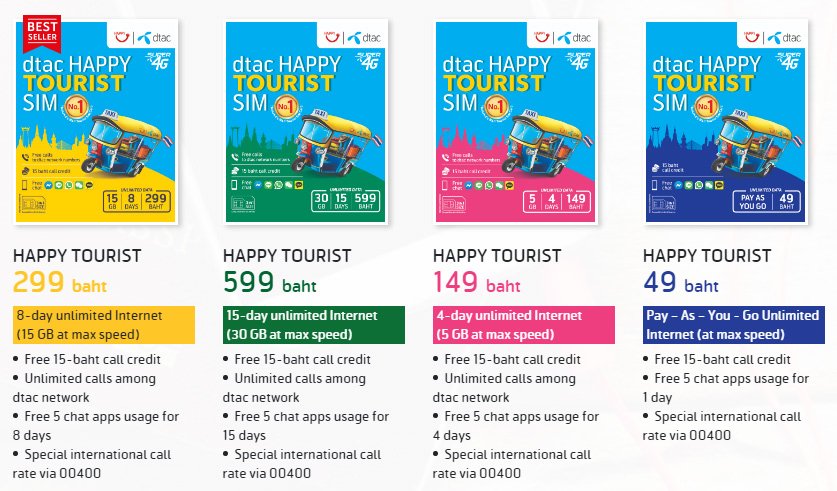 If you should opt for dtac and are a frequent surfer then my recommendation is to buy the Happy Tourist SIM card with 599 baht. Here you can use 30GB of data until the speed is reduced. As a normal user, the 15GB of the 299 baht SIM card will be enough for you.
If you only bought the simple Thai SIM card for 49 baht you can easily book data volume by topping up.
30 days – 2.5GB – Price: 319.93 THB – Press: *104*353#
30 days – 4.5GB – Price: 426.93 THB – Press: *104*21#
30 days – 9GB – Price: 747.93 THB – Press: *104*344#
AIS Thai SIM Card: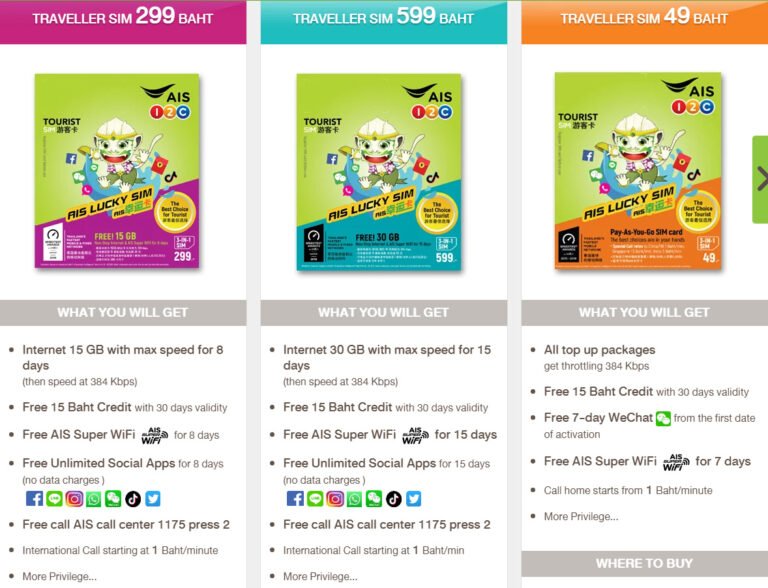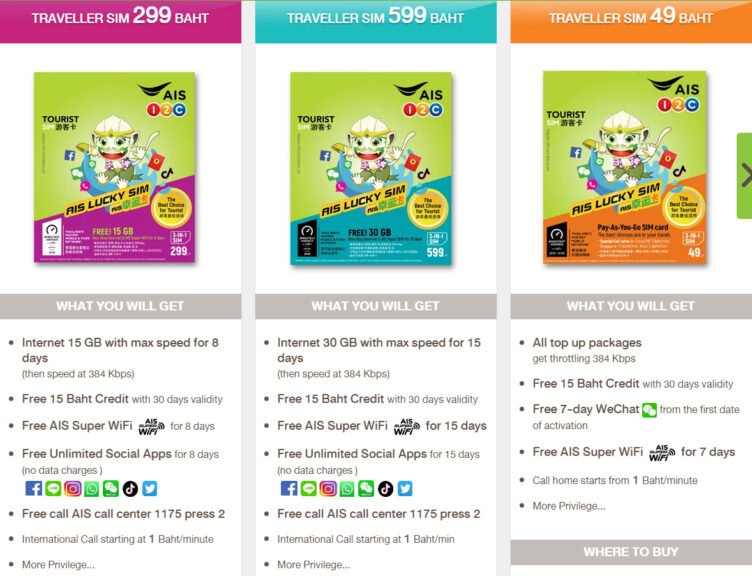 AIS is my personal favorite and current provider in Thailand. Here you also have to follow your surfing behavior and choose between the different packages. At AIS, you can download the MyAIS App on your smartphone and use it to book other packages or top up your Thai SIM card conveniently by credit card via Line Pay.
With the SIM cards with 299 and 599 baht, you can use Facebook, Line, Instagram, WhatsApp, WeChat, TikTok and Twitter 8 or 15days without it being counted towards your data volume.
True Move H Thai SIM Card: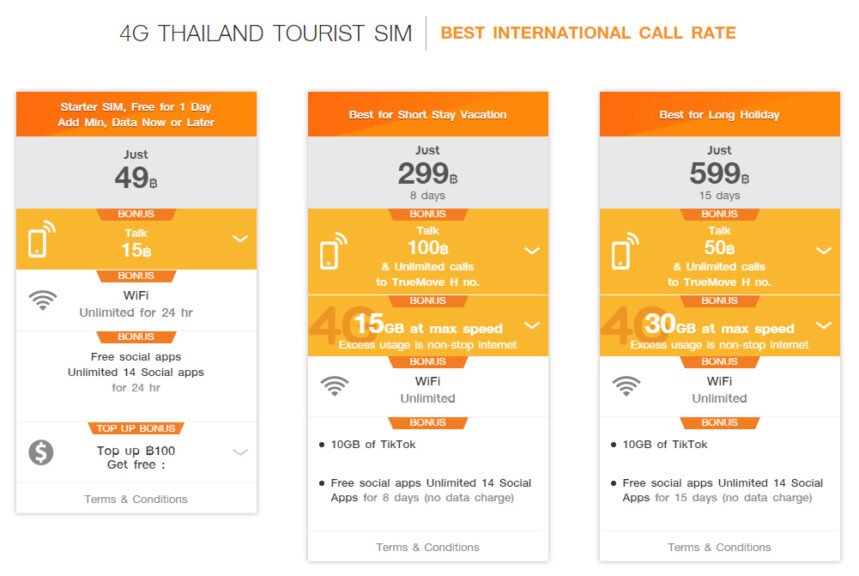 True Move H is priced at the same level as dtac & AIS with the SIM card offers. The largest packages come with 15 & 30GB data volume and the free use of social media apps for 8 or 15 days.
As you can see, choosing SIM cards for Thailand is not that easy. Due to the good network coverage and the extensive range of services, I find AIS to be the favorite for the best Thai Sim Card in 2021.
Where is the best place to buy a Thai SIM card?
As I wrote at the beginning of the article, you can buy the Thai Sim card directly at the airport in Bangkok, but this does not always make sense due to the waiting time. In any case, only the network operator's sales offices in the large shopping malls have the best offers. The sales counters at the airport lost their entitlement to me when a saleswoman wanted to tell me that I could only top up my SIM card for Thailand at her place and nowhere else in Thailand. When I let the taxi driver stop at a 7/11 shop on the way to Pattaya, I was able to top up the SIM card myself.
You will get the better deal if you buy your Thai Sim card in one of the many Family Market, Mini Big C, Tesco Lotus Shop. The 7 Eleven Shops only have a few SIM cards for AIS on offer. A safe tip for buying a Sim card is the Tuscom Center in Pattaya or the AIS Shop in the Central Festival. You can top up the Thai SIM card yourself either directly via the Provider App. There are also a lot of machines in front of the supermarkets where you can top up the SIM card yourself.
If all of this is too complicated for you, you can buy your SIM card for Thailand direct from home. At 10 things you need in Pattaya.